On June 15, we held our very first half-year team alignment at our new Stockholm office. FeedbackFrog's half-year alignment will be a recurring event, taking place every six months. There, colleagues gather to align on how we should write the next chapter to take FeedbackFrog to the next level. We aim to get a clear picture of where we are now and where we are going in the long term. We take our vision, mission, and strategy and transform them into tangible elements, establishing a solid foundation that accelerates our company's growth while fostering unity and cultivating our culture moving forward.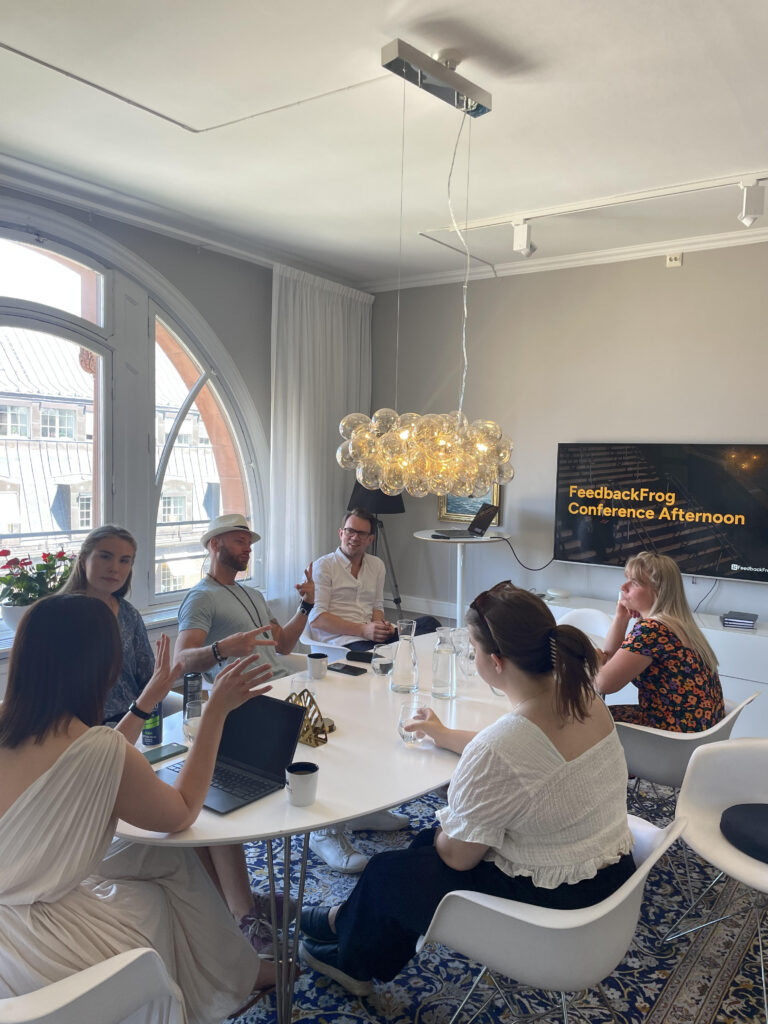 This is what the agenda looked like for the day:
12:00 🏢 Company Welcome: Meet at our new office and have a look around.
13:00–13:45 👩‍💼 Chief Executive Officer – The financial situation of the company, as well as vision, strategy, and the next few years of growth.
13:45–14:00 ☕️ Fika.
14:00–14:30 👨‍💼 Chief Sales Officer – Sales, offerings, and roadmap.
14:30–15:00 👩‍💼 Product Owner – Path to progress, product direction for Q3 – Q4.
15:00–15:30 👨‍💼 Chief Operating Officer – Organizational Update & architecture, how to make us fit for the future, and what to expect.
15:30-16:00 👨‍💼 Chief Operating Officer – Project Culture Code.
16:00–18:00 ☀️ Social — A walk in the sun on a bar crawl between the new office and the final destination of the day.
18:00–22:30 🍽 Social — We had dinner and enjoyed stand-up comedy together at Norra Brunn.
Summary of FeedbackFrog's half year team alignment June 15th
We started the day by taking a look around our new office, where we will be moving in August.
Next, we had our founder and CEO, Amanda, as our first speaker. She provided updates on the company's current financial situation and reminded us of our vision and mission. Amanda discussed our short-term and long-term approaches, highlighting the strengths, weaknesses, opportunities, and threats relevant to our goals. She also outlined our positioning, strategic roadmap, and where we currently stand, as well as the implications and requirements for the company's growth in the next few years.
The agenda then shifted to our Chief Sales Officer, Jimmie, who discussed the current sales performance, future plans, and the necessary steps to achieve our commercial objectives. We also talked about how our offer and product range will change going forward.
Yana, our Product Owner, shared insights on the product development roadmap, updating us on progress and what to expect next. She provided more details on the upcoming products' capabilities and functionalities.
Our Chief Operating Officer and final speaker of the day, Tim, shared updates on ongoing organizational activities and future focuses. He provided a hands-on perspective on how we can ensure success and adapt to the future. Tim also concluded the session with a Project Culture Code, allowing everyone to openly discuss their likes and dislikes about working in the company. This served as the starting point for a collaborative workshop, where we collectively established team ground rules, emphasizing what we will and will not do moving forward. This process aimed to create a stable foundation as a team, accelerating the company towards our desired destination.
The day ended with a walk in the sun, visiting various pubs before reaching our final destination, Norra Brunn. There, we enjoyed good food and shared laughter during an evening of stand-up comedy.